Unmanned Aircraft Systems (UAS)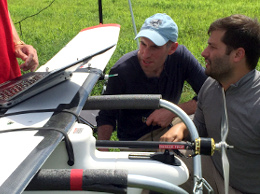 In support of post-launch product (L1b & L2+) validation efforts of space-based environmental satellites an advanced capability development effort, funded by the GOES-R Program, was initiated, "near surface UAS feasibility demonstration study." The study focused to develop prototype UAS (a small rotary and a fixed-wing UAS) and payloads to assess the feasibility of collection of near surface reference measurements for ABI post-launch validation in partnership with GOES-R Program, NOAA/NESDIS/STAR, NOAA UAS Program Office, and University of Maryland (UMD).
Latest News: Operational performance testing is planned in Bushwood, MD on January 10, 2017. This test will be followed by a U.S. southwest desert deployment in February 2017. Following these tests the GOES-R field campaign validation teams will be preparing for operational validation flights in the spring of 2017.